HP Designjet 5100 "60 inch Printer  
Low Investment Rapid Growth with Designjet 5100
Whether you are just starting up or looking to take your business to the next level, the HP Designjet 5100 Printer offers you a reliable and cost-effective 60-inch large-format printing solution. Designed specifically for creating competitively-priced indoor and short-term outdoor applications, these printers produce good quality prints that give you peace of mind without breaking your budget.
Please Contact Us for Best Price:- Mr. Anil Sachdeva - +91 9811010637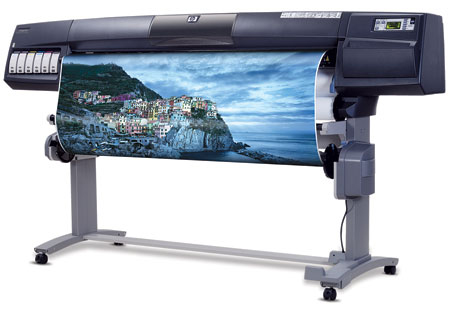 The smart printing solution for new and expanding businesses
Network easily with HP Jetdirect 620n print server card
Replace only the ink colours you need with six independently replaceable ink cartridges
High-capacity take-up reel decreases intervention and boosts productivity
Increased productivity with extra wide printheads (0.85 inches)
Self-adhesive polypropylene and backlit media developed to provide high-quality prints at high production mode speed
Roll-feed and automatic cutter for unattended printing
Integrated heater ensures optical image quality when using the production print modes
Direct access keys and LCD printer status for ink supply maintenance and print message alerts
Special Offer on the HP DESIGNJET 5100 Printer
HP Designjet 5100 Printer-(CG710A)-
MRP - 532580/-
Special Offer - RS. 532580/-
Taxes - 5% Extra
Designed for reliability and productivity—Original HP inks
Original HP inks are designed and tested with HP ink cartridges, printheads, media and the Designjet printer to provide:
Optimum nozzle health for a small ink drop size and maximum printhead life to keep your business up and running
In-built intelligent technology in HP cartridges work interactively with the entire printing system to make continuousadjustments for superior quality and consistency
Precision designed and tested to save time, improve productivity, and lower overall printing costs
Tried and tested for optimum consistency and compatibility
Formulated through a process of rigorous testing, HP inks produce high-quality and consistent results across a wide-range of media, and are optimized with the broad range of Original HP large-format media to produce the most reliableand consistent result
Hassle-free purchase, management and uses
Built-in intelligent technology to provide a host of time-saving features such as the monitoring of ink levels and alerts for you to replace supplies with less interruptions
Specially designed for intuitive identification and installation, individual ink cartridges allow you to quickly and easilyreplace individual colors without recalibration
The competitively priced HP Designjet 5100 Printer is a cost-effective large-format printing solution that is ideal for print service providers looking to enter the market, or seeking to expand their current printing solution. Achieve affordable, reliable and consistent print results with original HP large-format printing supplies—increasing your profits and providing a major boost to any business.
With remote printer management and production print modes, it is easy to create ready-to-sell, large-format prints—quickly and with higher efficiency. Simplify workflow and lower cost over time with easy connectivity in Windows® environments and support up to 5 embedded printer languages (TIFF, JPEG  CALS G4, HP-RTL and HP-GL/2).
Downloads
Click here: HP DesignJet 5100 for technical specifications on the 5100